EXPERIENCED
PREPARED TO
FIGHT FOR YOU
Des Moines, Iowa Family Law Attorney
No one wants to need a lawyer, regardless of what kind of case they're dealing with. I use every tool at my disposal to make the process as painless as possible for you while fighting fiercely for your best outcome.
Jason Rieper
ATTORNEY
A lot of people tend to picture lawyers as cold, rigid people, but I learned at an early age that this stereotype doesn't often hold true. You see, my uncle was an attorney for more than 40 years. By helping out at his practice, I saw that a good lawyer is one who's both aggressive and effective while also being kind and compassionate. Now, I use that insight to give my clients the highest level of legal support whether they're going through a divorce, child custody dispute, personal injury lawsuit, or criminal defense matter.
Iowa Family Law Quick Facts
Iowa is a no-fault divorce state.
Iowa recognizes no-fault divorce, which allows for a dissolution of marriage to take place when there is evidence of a breakdown of the marital relationship with no likelihood it can be improved or preserved.
Child support for minors is required.
In Iowa, parents have a legal obligation to support their children who are younger than 18. This duty continues for a child who has certain physical or mental disabilities or is between 18-19 and still completing high school.
Paternity can be challenged.
Under certain circumstances, Iowa law provides that a paternity status may be challenged if any later blood or genetic testing indicates that the established father of a child is not the child's biological father.
The court must verify custody terms.
Even if you and your spouse agree to the terms of your divorce arrangement, the court must still review and approve those terms. Custody terms are not final until a judge signs the final divorce decree.
Divorce may seem like the end, but it can also be a fresh start and new beginning.
Divorce is, without a doubt, one of the most emotionally exhausting legal processes out there. Still, it is often the healthiest decision you can make for yourself and for your children. No matter how amicable or hostile your situation may be, you will get nothing but support and encouragement from me. And, as we set out to negotiate the details of your separation (such as property division, alimony, child custody, and child support), I will gladly act as both your legal counsel and your sounding board.
What My Clients Say
Could not have asked for a better lawyer, hands down!
What My Clients Say
[Jason] was honest, beyond fair and fought for our family... He was our rock through it all and we are incredibly thankful we had him by our side.
What My Clients Say
Jason has diligently provided legal services for our family for years... Thank you for always being there when we need you most.
What My Clients Say
I highly recommend him and wouldn't hesitate to go back for any legal assistance.
What My Clients Say
He was always professional and talked me through the process. He is very caring and polite.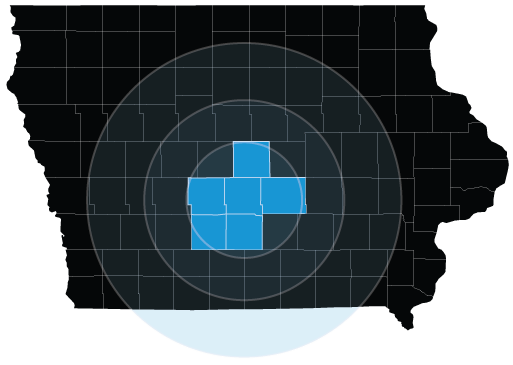 Proud to Serve Des Moines
Polk County
My office is located in Des Moines, but I take cases throughout Polk County and the counties that surround it.
Madison County
If your injury, family matter, or criminal charge took place in Madison County, not to worry — I'm just a phone call away.
Dallas County
Dallas County is just a short drive from the greater Des Moines area. If you can't drive to me, I can come to you.
Jasper County
Many of my clients live in Prairie City, Newton, Colfax, Monroe, Mingo, Valeria, and other cities in Jasper County.
Warren County
Warren County is home to Indianola, Norwalk, Liberty Center, Martensdale, Hartford, and even a piece of Des Moines. Call if your matter took place there.
Story County
With I-35 running straight from Des Moines to Story County, arranging for an in-person consultation is no trouble at all.
Dedicated to Finding Lasting Legal Solutions
Tailored to Your Family's Interests
No two families are the same. Whether yours is navigating a divorce, child custody modification, paternity dispute, or any other legal matter, you deserve a solution customized to fit your unique family's needs and interests. You also deserve a lawyer who will alleviate any stress you're feeling, not add to it. As a father of five kids myself, I can level with you on any emotions you may be feeling, and promise to do everything in my power to efficiently guide you through your case with compassion. Reach out to my office today in Des Moines, Iowa to schedule a free consultation and start pursuing a favorable solution.
If you're looking to name a guardian for your children or give a child a good home through adoption, I'm here to advocate for you. I treat every client like I would want my loved ones to be treated. I have practiced this golden-rule philosophy with countless Iowa families throughout Polk County, Dallas County, Warren County, Madison County, Jasper County, and Story County. Legal matters involving families are just as complex as they are emotional, so you should rely on an attorney who's just as knowledgeable as they are kind. You'll find that when working with me at Rieper Law P.C. Let's get started today.